Ultimate Parenting Guide to Raise a 3-Years Old
Raising a 3-year-old kid does not come with a handbook, but what if it did! Here in this parenting guide, we have tried our best to compile all the best practices you need to know to raise your kid.
3 years of age is a transition time for preschoolers, where they are explorers of their surroundings. We all want to raise superstars that are successful, productive and well-behaved amongst having other qualities. As a parent, it is easy to get lost in the heaps of suggestions about raising a 3-year-old from the internet or the moms at the playground. Therefore, to help you lock down the best approach to raising a wonderful 3-year-old, we have compiled a comprehensive list of resources and kids' activities you can do with your 3-year-old toddler to help with all aspects of their development.
Developmental Milestones for 3 Years Old
Every child develops at his own pace so the developmental milestones are not absolute. However, according to WebMD generally, 3-year-olds can do the following:
Physical: 3-year-old can walk in a line, go up and down the stairs, balance while running, catch a ball, move their feet underwater and pedal a tricycle. Their fine motor skills include activities such as turning the doorknob, playing with small toys, piling blocks to build a tower and put on and remove clothing.
Cognitive: 3-year-olds begin to absorb information, form memories and follow simple two-step commands. They can remember parts of stories and events such as a trip to the museum. Asking questions at this stage is normal because it is their way to learn.
Communication: 3-year-old can tell you their name and age, form simple sentences of 5-6 words sometimes without proper grammar, speak about 300 words and understand much more. They begin picking up on non-verbal cues as well such as sadness by looking at a crying person. Or anger by the tone of the voice.
Emotional: kids this age recognize emotions and express it verbally as well by saying "I am happy" They demand independence but at the same time, kids have a hard time separating from the parents. 3-year-olds begin to imitate the elders and become possessive of their things.
Educational: 3-year-old can identify shapes and colors; they can copy circles and squares, recite their alphabets and count to 10. These days' kids this age can also navigate mobile phones and tablets to play their favorite cartoons, YouTube, or games.
Social: 3-year olds like playing in groups and begin to show affection towards their friends. They are interested in exploring new environments. By now they understand social principles such as making a queue at the grocery store and shaking hands etc.
In this parenting guide you will learn about all the activities for kids, that you can do as a parent to build-on the milestones your 3-year-old has achieved and develop new skills needed for preschool and the future.
For 3-year-old kids, the growth and development are divided into various categories that we will discuss in this parenting guide, you can read a small teaser of the details to follow:
Physical development: we will discuss the importance of physical activity and mention the sports your 3-year-old should be involved in and why.
Nutritional aspect: we will discuss the kind of nutrition your 3-year-old requires and the food groups you should include in their diet.
Mental development: we will discuss brain development during the early years of life, and your role in stimulating your child's brain with different brain development activities.
Communication and expression skill: we will discuss how you can improve your kids' vocabulary and communication skills.
Emotional growth and personality development: we will discuss how kids learn behaviors, manners and the way to respond to situations.
Psychological development: psychological behavior of 3-year-olds and activities you can do for improving their psychological health.
Educational development: we will discuss the role of STEAM Education and school in a 3-year-olds life.
Social growth: we will discuss how you can improve your child's self-awareness and social skills by taking a few simple steps.
We will discuss each aspect separately so you can use this parenting guide as a complete solution to raise a 3-year-old. This parenting guide contains well-researched recourses that are experts-approved so you can have a handbook to raise your 3-year-old kid.
Tips we have mentioned below in this parenting guide, will allow your kid to be involved in all sorts of productive activities so they are ready to take on the world and all its challenges. Continue reading to learn what you can do as a parent to raise a wonderful preschooler!
Physical Growth- Role of Sports and Physical Activities
Sports and other physical activity have a direct link to the brain development of kids; research finds that kids involved in sports have better long-term spatial cognitive performance. Physical activity for a 3-year-old can include activities for kids such as playing in the yard, dancing and exercising such as yoga for preschoolers or even something as simple as jumping on the trampoline.
Organized sports are great for older kids but at the age of three, kids can achieve all the benefits by playing sports on their own in the yard or at the park. According to research by Mayo Clinic, the top sports for a 3-year-old Sports for 3-year-old that bring them the most health benefits include:
Betsy Bernard, the former CEO of AT&T has always advocated for sports and was involved in competitive skiing for most of her life. Starting sports from a young age helps lower risks of lifelong illnesses such as obesity, diabetes and poor bone health etc.
Nutritional Requirements of 3-year-old Kids
Experts suggest parents should be mindful to include nuts, fibers and protein into the diet of kids. Foods that are great for kids include carrots, raisins, dried or frozen fruits, snap peas, rice cakes etc. Fresh produce and healthy snacks give kids the right amount of proteins, carbs and micronutrients that are essential to the physical growth of 3-year-old kids. The U.S department of food and nutrition services has a dietary guideline about the foods that you should include in your kids' meals which provide the necessary nutrients. So the foods to include in your 3-year-olds diet include:
Nutrition is an undeniable factor for brain development of kids. Including greens and fruits into your 3-year-olds' diet is not only going to improve their physical health but also contributes to brain development, research shows.
Mental Growth- Brain Development Activities for 3-year-old Toddlers
The brain undergoes rapid development by forming new connections and pathways during the first six years of a kid's life, research concludes. It is vital to find activities for kids that provide appropriate brain stimulation. Such activities for kids promote thinking, creativity, problem-solving and self-reliance skills.
Some expert-approved brain development activities for kids you can do include simple tasks such as:
Successful people like Mark Zuckerberg are known for doing various brain-stimulating activates, for example, solving rubrics cube and puzzles to stay sharp.
Communication and Expression Skills for 3- year-olds
Kids begin to mimic adults by the age of two or three and their vocabulary starts to expand. It is a great opportunity to teach a new language or introduce them to new words in their mother tongue. Experiences during the early years of life shape the brain connections of the kids, according to research on brain scans by Dr Kimberly Noble. The various activities you can do with your 3-year-old to improve communication skills include:
Talk to them: Use definitive words instead of baby talk when talking to 3-year-olds to establish their vocabulary. Pick up a toy of theirs and talk to them about it. Point out the nose and the eyes and the type of clothes it is wearing.
Do various learning activities for kids to teach your 3-year-old English, Spanish or any other language, for example, sing songs in the language of choice and play 'name the thing' etc. Research finds that teaching a foreign language at a young age leads to linguistic and cognitive benefits along with cultural enrichment. More online resources for learning activities include learning4kids and Oxford owl.
Ask questions Point to various objects and ask them to name the item. Also, ask kids how they feel and try to assign a name to their emotion.
Read your kid books with lots of pictures, that way it is easier for them to remember by connecting pictures and words in their minds. Research finds that reading to a 3-year-old leads to better language and literacy skills. Online resources to find the best books include A mothership down and org.
Easy to follow commands give your kid step by step instructions such as 'get the ball' and as they grow older include variations such as 'do you want warm chocolate milk?' org and ChildDevelopment.com are online resources for more instruction-following activities.
Natalie Portman, a famous actress, is multilingual and learned multiple languages as a young child.
Emotional Growth-Learning Activities for 3-year-old Toddlers
The personality of kids begins to form during the preschool years. As parents', guide your 3-year-olds towards the right thing to do while also giving them ample space to choose their behaviour and attitude towards different social situations. Different parenting styles leads to the development of different personality traits like obedience, happiness, discipline etc. A research conducted in 2010 found various activities to practice with your 3-year-old for their emotional growth, some of which include:
Table manners, thanking the host, saying please when requesting something, sharing etc. are some of the basic manners that you can teach to a 3-year-old. The best way to do that is to model it in your behavior because kids learn a lot by observation, research finds.
Psychological Development- Self-awareness and Self-concept
Within the past 20 or so years, psychologists have made tremendous discoveries about child psychology. Childhood sets the course for the rest of the life so it is important to understand the role of parents, school peers and society or culture in the psychological development of 3-year-olds. To improve the psychological health of your 3-year-old, there are various steps parents can take such as:
According to research, the behaviour of parents affects a child's self-esteem so your behaviour with 3-year-olds should be encouraging and uplifting. Be excited when they boost about tiny accomplishments like putting on their shoes by themselves. Parenting for brain and education corner are online resources for ideas on how to constructively praise kids.
Expose kids to different cultures conservative cultures generally raise close-minded kids so it is healthy for 3-year-old to be exposed to different cultures and ways of life, research states that it fosters diversity and open thinking form a young age. Take your kids to different community parties, encourage friendships with kids of different backgrounds etc.
Meditation have your kids sit down with a stuffed toy and practice breathing exercises and talk about what they are feeling etc. Take them out in the garden as nature and sunlight is a mood booster. Research finds that mindful meditation improves behaviour of young kids. com and parents.com have more ideas for medication activities for 3-year-old.
Freedom to discover themselves Give your 3-year-old the freedom to explore their identity by making small decisions by themselves. Such as what clothes they want to wear or what snack they want to eat.
Relationship with peers affects thinking and creativity of the kids. Research finds that positive peer relationship leads to better problem solving and help-seeking skills in kids. For healthy peer relationships practice activities such as sharing, kindness, starting conversations etc. Raising children and parenting science are online resources for you to learn more tips on peer relationships.
Psychological growth of your 3-year-old and mindful attitude leads to better physical, emotional and social health in kids.
Educational Growth- STEM Activities for 3-year-old Toddlers
Setting a strong foundation of education and STEAM knowledge for kids is directly equivalent to a brighter future because it teaches problem solving and creativity amongst other skills.
Lilian G. Katz (2010), a renowned professor of early childhood education, suggests that the best way to teach preschoolers is to let them take initiative using their curiosity as a guide. Various activities you can do for the educational growth of your 3-year-old include:
Tim Berners Lee who had a major role in creating the WorldWideWeb advocates for STEM education, saying STEAM during childhood is vital for success.
Parenting Guide for Social Growth of Kids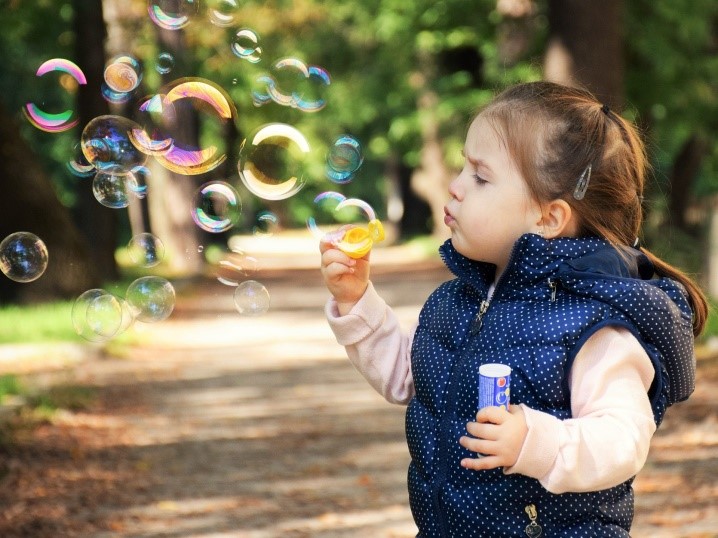 Social behavior in kids refers to how they interact with society. In a way, all the aforementioned aspects of growths come together under the umbrella of social behavior. As a parent, your behavior with the kid can teach your 3-year-old different social skills. Activities you can do to improve their social skills include:
Take 3-year-old with you when running errands, they can get over social anxiety much quicker when they have a familiar face next to them. You can keep them busy by giving them small jobs such as holding a bag or distract them with a toy. org and tinybeans have tips for you to run errands with toddler efficiently.
Let them be explorers Allow your 3-year-old to explore their environment independently to boost confidence and self-reliance, while always staying in sight.
Friendly behaviour with other kids Preschool years are a great time to teach cooperation with other children so encourage sharing of toys and snacks, teach them to be nice to the new kid in class and to always be polite by saying please and thank you etc. A research on child development shows the long term benefits of teaching social skills during preschool through peer reinforcement. com and Parents are online resources for you to learn more activities for 3-year-old.
Listening skills do exercise with kids that teach them to pay attention while listening, waiting their turn to speak and discourage them when they interrupt someone else's' speaking time. A great activity for this is to play the phone game, it teaches them to listen attentively. Oxford learning and worksheet cloud are online resources for you to find more ideas on listening activities for 3-year-old.
Non-verbal skills show kids to read facial expressions by doing fun activities such as play guess what I am feeling. Make a sad face and ask them what it means etc. use their toys or watch a cartoon without sounds and ask your kids questions based on facial expressions. gov and a fine parent are online resources for you to find more ideas on nonverbal communication activities for 3-year-old.
Young kids learn social skills such as smiling at the stranger by observing their parents, research finds. So be mindful of your social skills when you are around your 3-year-old and that should teach the kid all they need to know.
A Quick Overview of a Parenting Guide to Raise a 3-year-old
Kids are very perceptive, so you can teach a lot by modeling through your behavior the kind of attitude you want to see in your 3-year-old kid. Your healthy attitude towards life's challenges will shape your kids' view of life.
Never overlook the importance of sports, physical activity and nutrition towards brain development of 3-year-olds.
Experts suggest the use of educational toys to improve fine motor skills, creativity and as brain development activities for kids.
3 years of age is perfect to teach new communication skills. So, talk in complete sentences and introduce new words in your preschoolers' vocabulary.
You should focus on getting your 3-year-old involved in sports and STEM activities for their brain development and physical growth.
You can improve your 3-year-olds psychological development and social skills by exposing them to new environments and diversity.
Final Words of Parenting Guide
At the age of three, preschoolers are like a soft clay mould so you can teach a lot, and they will absorb it all quickly. Use this time to stimulate their brains, find language-learning activities for kids, ask them questions about everyday items. For example, cut their snacks in pieces and ask them to count, use words such as quarter and a half along with numbers.
In this parenting guide, you will find multiple ideas for brain development activities for kids, STEM activities for 3-year-olds and more that can help your 3-year old become a mentally strong, independent and productive kid.
So what are you waiting for? Click on the free resources and links provided above to get started on various activities with your 3 years old!